Preparing for Black Friday, Officeworks' MVP, Twitter's Agency Playbook and A Brilliant Beer Commercial: Our September Update
Alright, my August round-up was a little doom and gloom. I mean no one really wants to hear about plummeting retail sales and menacing multi-nationals do they?

Well, good news for September—things are looking a whole lot brighter!
If you didn't read my previous roundup and you're wondering what on earth I'm going on about—basically this is a monthly article is for those of you who don't have the time to wade through politics and celebrity trash to find the news and updates that matter to you and the industry.
And so, like the noble human I am, I've put them all together in this bitesize blog for you!
So, what caught our attention in September?
Preparing for Black Friday and the following onslaught of promotional holidays
Why Officeworks is proof that DONE is often better than PERFECT and it's okay to launch with your MVP
Twitter's Advertising Playbook (…might be a few years late there Twitter 🤷🏻‍♀️)
And finally, another genius beer commercial 🍻
Black Friday D-Day
It's October, which means….Halloween is less than a month away, followed by Melbourne Cup, Singles Day, Black Friday, Cyber Monday, Click Frenzy, School Holidays, Christmas, Boxing Day, New Years and finally back to school…😱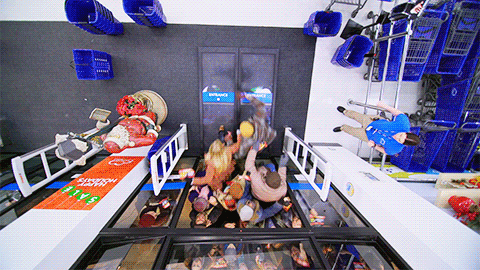 The constant onslaught of promotional holidays at this time of year is quite honestly exhausting—exhausting, but profitable!
Over the past five years, interest in Black Friday has grown by 614%, with Aussies shoppers buying an average of 4 products during the sales period.


Black Friday Global
Despite Black Friday's growing popularity in Australia, we'd be stupid to ignore the current downward trend in retail spending coupled with a big dose of promotional fatigue. We want to help you make the most of this year's promotional period so here are a few quick tips to help you cut through the noise and convert.
Get Your Timing Off…On Purpose. You could stick to the 24-hour window allocated or you could do something a little different. You see, as soon as we hit Friday the 29th everyone is smacked with a tsunami of promotional emails and social activations. Beat the pack by kicking off your campaign a day or two earlier OR convert some of the slowpokes by extending into the days following.
Build awareness throughout the month. In Australia, you don't see grown adults wrestling over a flatscreen. In fact, most of our sales will be online. Consumers aren't fools! They're well aware there will be huge discounts, so they plan and strategise ahead of time. Don't rely on buyers' impulses. Build awareness around your bestselling products throughout the month so that come D-Day, people will make a bee-line for your site.
Create a Gift Guide. Many smart shoppers are now using Black Friday and the following Cyber Monday to score Christmas presents at a heavy discount. Consider creating a gift guide to make that process 100 times easier!
'OH WTF Black Friday is here already! Mannn….. 🤦🏽‍♀️' Never miss an important promotional date again, download our 2019 eCommerce Marketing Calendar.

Officeworks with the Ultimate MVP
We teach our clients teams that done is better than perfect—and it's better to launch something in its infancy than work on it forever until it's perfect.
This is called launching your Minimum Viable Product (MVP). The minimum you need to get started in order for the money to start coming in. Where am I going with this? Well, boy have I found a great example of starting with your MVP for this month.
Officeworks have really got the jump on school suppliers with an integrated back to school campaign, at the centre of which is a tool that allows parents to Upload and Compare their children's school list in real-time.
Now this campaign is nothing new. In fact, they've re-launched it three years running, using insights from the previous year to tweak and optimise.

In the most recent launch, they've made some significant changes.
In 2018, they launched in December; however, this year they moved the campaign forward significantly based on data that showed many parents were receiving lists in September and getting organised early.
They've revised their messaging to be more targeted towards the parents. In 2018, the tagline was 'For Growing Minds'. With the re-launch in 2019, it's 'Smart Parents Save With Our School List Service'.
They've added a price comparison/match feature.
They have extended their reach, integrating the campaign across TV, radio, outdoor advertising, digital and social media. Plus, it is fully complemented by their CRM program, search, PR, influencer partnerships, in-store experience and personalised onsite messaging.
On using insights to improve the offering, Officeworks General Manager of Marketing, Jess Richards, had this to say.
"Using these insights, as well as learnings from previous campaigns, we form a clear view of the types of messages that will best resonate, and form a plan which ensures we are communicating the right messages, through the right channels, at the right times."
Why do we love this campaign?
Essentially, what we call a 'Dream Project' is made up of many MVPs built out over time and this is exactly what Officeworks have done. They identified a highly profitable campaign segment, started simple and built on it over time.
Had they tried to build the campaign to this size in year one, they would have missed out on the valuable insights offered by real parents and potentially wasted time on a lot of features no one was asking for!
Moral of the story. Start small, test, optimise and scale. We call this 'slowing down before you speed up, you can read more on the strategy here.
Twitter's Agency Playbook
So it appears Twitter has finally decided to come to the table with a free Agency Playbook for marketers. Ummmm Twitter, sorry but you may have missed the boat on this one. But thanks anyway…?

The other social platforms: Facebook, Instagram, YouTube and SnapChat in particular, are already well and truly on the advertising train—and they have been for years!

According to Twitter's own internal data, they are 'the best platform for marketing'….yeah Twitter, my Mum thinks I'm amazing too….doesn't mean it's true 😂.
Okay, maybe I'm being a bit hard on poor Twitter, but they're making some pretty out-there claims given the platform's users are in decline.
I'll leave it to you to check out the playbook for yourself. Let us know what you think. Is Twitter going to make a Steve-Bradbury-level comeback? Or is this a last-ditch effort to get some dollars rolling in?

Heineken's Rugby World Cup Commercial
Let me just say there must be something in the water of the agencies that work on these genius beer commercials…or perhaps it's not water at all 😏.
We've seen some awesome beer commercials over the past decade, Carlton Draught's 'This is a Big Ad' and VB's masterpiece with the Melbourne Symphony Orchestra to name a couple, but this one may just take the cake.
The Rugby World Cup is currently underway in Japan with millions of hardcore fans flocking to the games or watching online. For most people, footy is the only thing on their mind…but Heineken knows that's not everyone!
This is the difference between assuming who your target audience is, and actually giving it some consideration. Because we all know who will be drinking the most beer at the Rugby world Cup…the people who couldn't give a damn about the game 😂.
---
And that's it for September!

Strap in and prepare your team for the upcoming promotional holidays. If you need help devising a solid MVP game plan or you're looking into 2020 thinking, 'I want to nail my video marketing strategy and know my customers better like Heineken', reach out!